KerlinCares
Kerlin Family of Businesses Community Outreach
For a group of businesses to be in business for 90 years, they have only one thing to thank for that success; and that is the support of the community! We are so blessed to live in a community that cares about the well-being of our neighbors as much as our community does. Many international organizations recognize the Warsaw area as one of the nation's largest supporters to renowned organizations like Riley's Children's Hospital and American Diabetes Association.
When choosing originations to partner with a few important things come into consideration:
Do the funds contributed support the lives of people here in our local community
Is there a chance to work directly with the fundraising and or awareness building of the organization
Does the organization possess similar business ethical standards as the Kerlin Family of Businesses
Has the work of the organization affected a member of our Kerlin Team in some way?
---
Riley Hospital for Children at IU Health is a place of hope and healing for children and their families. As Indiana's only comprehensive children's hospital, they provide compassionate inpatient and outpatient care to more than 300,000 children each year. Additionally, their relationship with Indiana University Health and their affiliation with the Indiana University School of Medicine mean that they always have the most up-to-date research and innovative therapies close at hand.
---
Racquets for Riley
Just hours after birth, Camille Kerlin (daughter of Rick Kerlin) was rushed to the Riley Children's Hospital at IU Health as she was born two and half months early with a congenital heart defect. Doctors stated that Camille "was a 5% baby" meaning that she was only given a 5% chance to survive. But, after 3 heart surgeries, the most recent in 2010, Camille decided to push on through all the odds.
Today Camille runs an annual tennis tournament called "Racquets for Riley" raising money for the Riley Children's Hospital at IU Health and the local KC Riley Kids Fund giving back to help kids like her.
Seeing firsthand the work of the Riley Team, we are so proud to be able to help support the work of the Riley Children's Hospital!
Year to Date the Racquets for Riley program has raised more than $41,000!
---
The American Diabetes Association is the nation's leading 501(C)3 nonprofit charity fighting against diabetes and its deadly consequences.

The moving force behind the work of the Association is a network of more than one million volunteers, a membership of more than 500,000 people with diabetes, their families and caregivers, a professional society of nearly 16,000 health care professionals, as well as more than 800 staff members
Nearly 30 million children and adults in this country are diagnosed with diabetes, so the mission we have is an urgent one. Everything we do forms the underpinning for that mission: to prevent and cure diabetes and to improve the lives of all people affected by diabetes..
HOW MANY ARE AFFECTED BY DIABETES*?
29.1 million: The estimated number of children and adults in the United States who have diabetes.
86 million: The estimated number of Americans who have prediabetes.
1.7 million: The number of new cases of diabetes diagnosed in people aged 20 years or older in 2012.
1 in 3 children born in the year 2000 will develop diabetes in their lifetime if current trends continue. The ratio is even greater for minority children with 1 in 2 developing diabetes in their lifetime.
Based on recently announced diagnostic criteria for gestational diabetes, it is estimated that gestational diabetes affects 18% of pregnancies. Prior studies have shown women who have had gestational diabetes are at risk (of up to 60%) for developing diabetes in the next 10 to 20 years.
*Statistics released by the CDC in January 2014
WHERE DOES THE MONEY GO?
RESEARCH
Since the American Diabetes Association launched its Research Programs in 1952, it has funded nearly 4,500 research projects, investing more than $700 million in diabetes research.
In 2014 alone, the Association funded 376 new and continuing research grants and made nearly $30 million in diabetes research funding available through its four major grant programs: the Core Research Program, the Pathway to Stop Diabetes? The program, Research Co-Support, and Collaborative Targeted Research. These funds supported 364 investigators at 143 leading academic research institutions across the U.S.
---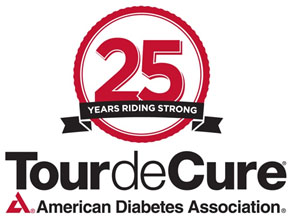 Tour de Cure is a bike ride through Indianapolis each year in an effort to raise funds to fight diabetes. Each year "Team DeCure" raises money and rides at the Indianapolis Motor Speedway for this great event that is very close to our hearts! In the picture below you see a rose mounted to our bike in loving memory of Jacqueline Kerlin, wife of Ted Kerlin and mother of Rick and Valerie.
Since 1992, Kerlin's has raised more than $250,000 for ADA

---
Kerlin Family of Businesses Annual Coat Drive for Combined Community Services
Each year, people right here in our own community go cold. They simply do not have the coats, hats or gloves to stay warm over the colder months. This is a real need in our community, so for 18 years the Kerlin Family of Businesses have partnered with Lake City Media Group, Wildman Business Group, Peerless Cleaners and Combined Community Services to collect these necessities for those who need them. This is a great way to reach needy people right here in our community with no financial commitment! Just donate your old coat!
Coats Collected to Date 23,820!
---

Boomerang Backpacks and Drive 4UR School Tippecanoe Valley School Corporation
Drive 4UR School is a unique was to showcase new Ford products in a very low pressure enviornment, while raising funds and awareness for a really great program like Boomerang Backpacks. This program allows children that quilify for free or reduced-price meals at school to take home backpacks full of food for the weekend.
By simply test-driving a new Ford vehicle, Ford and the Kerlin Family of Businesses will donate $20 to the Boomerang Backpack program up to $6,000 per event!
Year to Date Drive 4UR School/ Boomerang Backs
Program at Kerlin's has raised nearly $18,000!